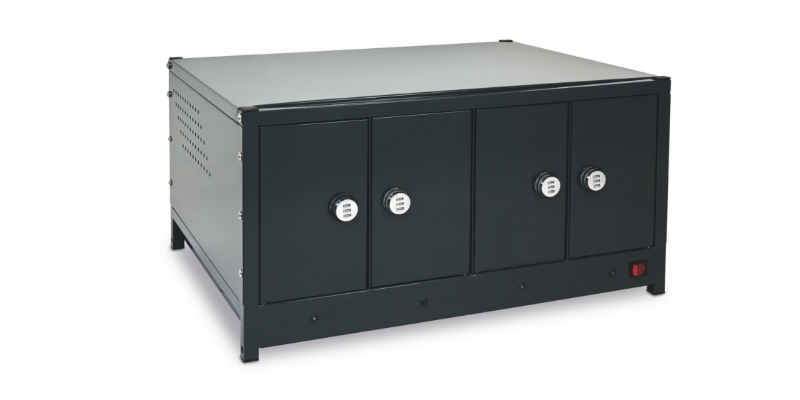 Safe Charging in the smallest spaces.
Our robust solution for the synchronous charging of up to 4 energy storage units of one AES battery type.
If you want to operate 2 to 3 charging modules in parallel on one circuit, it is necessary to install them on the base of an AES charging cabinet. This way you can charge your AES batteries safely and in a space-saving manner.
Key Features:
Single module with 4 battery charging slots

For tidy charging of your AES batteries

Robust metal construction

Optimal use of space: work safety in the smallest space

Individually lockable

With practical nameplate for each compartment

Temperature monitored (optional)

Individual design and color variants possible

Also available as a complete charging cabinet consisting of 2 to 3 charging modules á 4 battery charging slots (with 8 to 12 battery charging places in total) and a base frame.
Technische Merkmale:
Input voltage: 230 V / 50 Hz (AC)
Mains connection: 230 V / 50 Hz 16 A safety socket
Equipment variants for different AES batteries available according to customer requirements
Working temperature: 5 °C – 35 °C
1 single module with 4 battery charging places
(dimensions: H x W x D: 340 mm x 660 mm x 520 mm)
Product variants:
Upon request also available for other AES batteries.