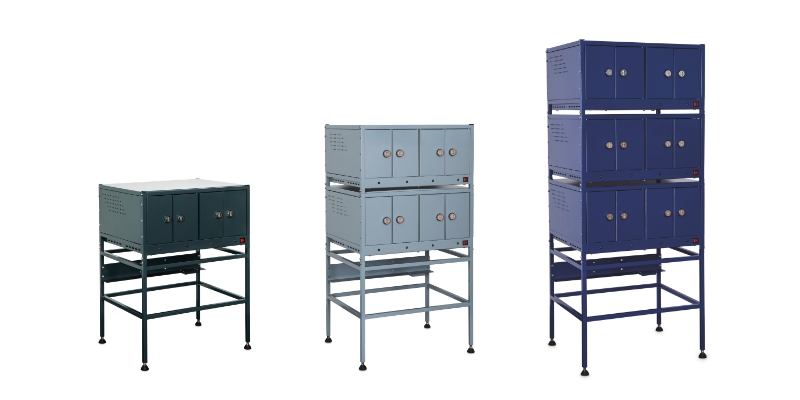 Thoroughly thought of down the smallest detail.
Our intelligent indoor solution for the safely charging your your AES eBike batteries.
A charging cabinet consists of a base frame and 2 to 3 charging modules á 4 battery charging places. If you want to operate 2 or 3 modules in parallel on one circuit, the installation on a base frame is necessary.The AES inrush current limiter prevents the circuit fuse from tripping. This ensures that that your batteries are charged on time.
Key Features:
Modular design: 2 to 3 charging modules + base frame: with 8 to 12 battery charging stations
Temperature monitored (optional)
AES inrush current limiter
Robust metal construction
Optimal use of space
Compartments with doors individually lockable
LED charge status indicator for each compartment
Optimal solution for protection and safety at your workplaces
Individual design and color variants possible
Depending on the design, the simultaneous operation of up to 3 charging cabinets on one circuit is possible (with 36 battery charging stations).
Technical features:
input voltage: 230 V
Mains connection: 230 V / 16 A 50 Hz power socket
Equipment variants for different

 

AES batteries available

 

according to customer requirements
working temperature: 5 °C – 35 °C
Charging cabinet complete with 3 modules + base frame:
Dimensions: H x W x D: 1625 mm x 660 mm x 520 mm
Loading cabinet with 2 modules + underframe:
Dimensions: H x W x D: 1285 mm x 660 mm x 520 mm
Product variants:
Upon request also available for other AES batteries.